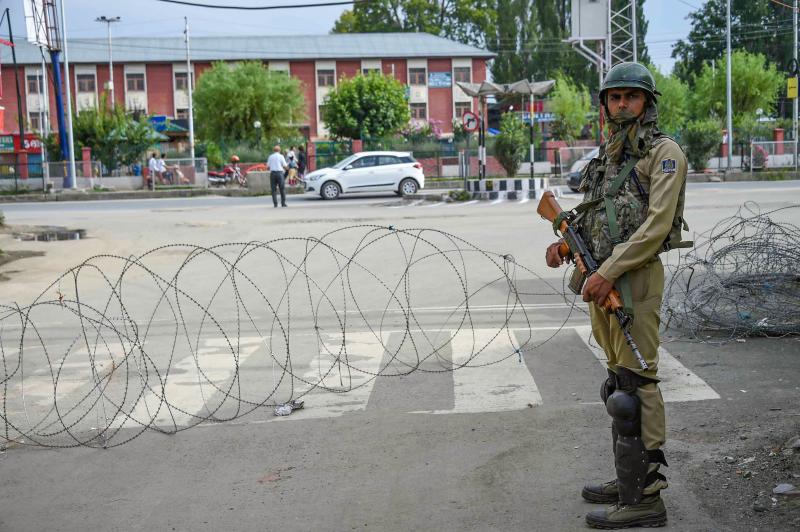 Government of #JammuAndKashmir: After the re-opening of primary schools, the government has decided to re-open all middle-level schools across Kashmir valley from Wednesday.
Syed Sehrish Asgar, Director of Information & Public Relations Jammu & Kashmir: There has been no major law & order situation reported from across the valley, life is returning to normal, the public, in general, has been cooperative.
Flood-affected houses to be re-built under the Pradhanmantri Awas Yojna
Maharashtra CM: Houses damaged due to flood will be re-built under the Pradhanmantri Awas Yojna. We will provide financial help of Rs 24000 for rented accommodation in rural areas and Rs 36000 in urban areas.
Source: ANI
Prime Minister Narendra Modi to attend the G7 summit in Biarritz, France
Prime Minister Narendra Modi will be on bilateral visits to France, UAE, and Bahrain, he will also attend the G7 summit in Biarritz, France from 22nd to 26th August. He will be meeting the Crown Prince of Abu Dhabi, Sheikh Mohammed bin Zayed Al Nahyan to discuss bilateral, regional and international matters of mutual interest.
PM Modi would receive the Order of Zayed, the highest civil decoration of the UAE which was conferred earlier in April 2019 in recognition of leadership of Prime Minister Modi for giving a big boost to bilateral relations between the two countries.
Source: ANI
ED summons P Chidambaram in probe related to aviation scam money laundering case
ED summons former finance minister P Chidambaram in probe related to aviation scam money laundering case, says Officials.
Source: PTI
Meeting underway at Home Ministry, chaired by Home Minister Amit Shah
Delhi: Meeting underway at Home Ministry, chaired by Home Minister Amit Shah. NSA Ajit Doval, Home Secretary Rajiv Gauba and senior intelligence officials present.
(Source: ANI)
Dravida Munnetra Kazhagam (DMK) to hold a protest
On 22 August at Jantar Mantar in Delhi against #Article370Revoked.
#UPDATE Delhi: Due to rising water-level of Yamuna river, vehicle movement on 'Loha Pul' (old iron bridge)
Over the river has been stopped. The water level has reached 205 meters (the warning level is at 204.50 meters).
Source: ANI
#UPDATE Uttarakhand: 4 dead, 3 rescued & 1 missing in Makudi village
Uttarkashi district following a cloud burst in the area. Rescue operation underway. Source: ANI
Task force headed by Akhilesh Ranjan, Member of Central Board of Direct Taxes (CBDT)
Will submit its Direct tax code report to Finance Minister Nirmala Sitharaman at 3 pm today. New direct tax code will replace the existing income tax act of 1961
Source: ANI
Jammu & Kashmir: Two persons have been rescued after they got stuck near a bridge
JAMMU after a sudden increase in the water level of Tawi river. Rescue operation still underway.
Source: ANI
Union Home Minister Amit Shah in Delhi: In the 13th Finance Commission
Congress govt had given Rs. 87,000 crore for the development of the entire northeast India. Modi govt increased it to Rs. 3,13,375 crore. This shows the priority given to northeast by PM Modi.
Source: ANI
Jalandhar: Flood-like situation in 7 villages of Phillaur following heavy rainfall. #Punjab
Chhattisgarh Chief Minister Bhupesh Baghel
Congress General Secretary for the state PL Punia & Chhattisgarh Pradesh Congress Committee chief Mohan Markam arrive at the residence of Congress interim president Sonia Gandhi in Delhi
Source: ANI
Former Haryana Chief Minister & Congress leader, Bhupinder Singh Hooda
A committee will be formed in a day or two. Convenor will call a meeting after the committee is formed. I will do what the committee will say, if it asks me to leave politics, I will leave politics as well.
Source: ANI
Supreme Court defers for Tuesday a plea filed by Facebook for transfer to SC
The petitions pending in different High Courts across the country, demanding to interlink Aadhaar database with social media profiles for authentication of identity
Source: ANI
Siliguri: Federation of West Bengal Truck Operator Association is on an indefinite truck strike
From today demanding immediate implementation of GST on petrol and diesel & immediate implementation of Revision of Safe Axle Weight Goods Vehicles
S
Kerala: Death toll in flood-related incidents rises to 121. 40 people injured, 21 still missing. #KeralaFloods
Himachal Pradesh CM Jai Ram Thakur on flood-situation in the state
22 people have died due to heavy rainfall & flood in just past 2 days. Death toll in entire monsoon season is 43. Losses of 574 crore estimated till now, detailed reports will come later. Situation is improving
Source: ANI
Unmesh Joshi, son of Shiv Sena leader Manohar Joshi, in Mumbai
I received a notice & I have come to meet Enforcement Directorate (ED) officers today. No questionnaire was sent to me by ED. I'll cooperate with them. It must be about Kohinoor (Kohinoor building case).
Source: ANI
Mandi: Road near Hanogi temple in Dwada damaged following heavy rainfall. #HimachalPradesh
Gorakhpur: Panchayat in its judgement in a case said a woman, married to one Naurangi Pal
Stay with another man with whom she had eloped,on condition that Pal is given 71 sheep as compensation.Pal was later arrested on complaint of the other man's father for stealing his sheep
Source: ANI
Bihar Chief Minister Nitish Kumar has expressed grief on the death of former CM #JagannathMishra
Three-day state mourning declared in Bihar. The former CM will be cremated with state honours
Sourcew: ANI
Pankaj Gajare, in charge of SNCU, Nashik's Civil Hospital
We use dark green bed-sheets on Monday, dark blue on Tuesday, pink on Wednesday, maroon on Thursday, saffron on Friday, light-green on Saturday & light-blue on Sunday. We don't repeat bed-sheets for infants for even a day
Source: ANI
Nashik, Maharashtra: Bed-sheets at Civil hospital's Special Newborn Care Unit (SNCU)
Colour-coded according to the days of the week to ensure that they have been washed and sterilised by autoclave. There are separate mops and buckets for each cubicle.
Source: ANI
Karnataka Chief Minister BS Yediyurappa: Within 2-3 hours
I am going to get the final list from Amit bhai (BJP President Amit Shah). So, cabinet expansion will be done tomorrow.
Source: ANI
Telangana: Bharatiya Janata Party Working President JP Nadda holds a door-to-door campaign in Hyderabad, as a part of the party's membership drive.
CBI sought four-weeks time from the Supreme Court to complete the probe saying statements of Unnao rape case
Victim and her lawyer are yet to be recorded. The court was told that the victim's lawyer continues to be in critical condition
Source: ANI
Supreme Court lawyer Alakh Alok Srivastava files a criminal complaint against Shehla Rashid
Seeking her arrest for allegedly spreading fake news against Indian Army and Government of India
Source: ANI
Bihar former Chief Minister Jagannath Mishra has passed away in Delhi after prolonged illness
SC refuses to quash charges against Tarun Tejpal in sexual assault case
SC dismisses Tehelka magazine founder Tarun Tejpal's plea seeking quashing of charges framed against him in sexual assault case.
Source: PTI
Kullu: Traffic movement stopped at Bhuntar-Manikaran road near Sarsadi after the road caved in following a landslide. #HimachalPradesh
Himachal Pradesh: A portion of a footbridge over Sutlej river in Chaba area of Shimla collapsed yesterday
After the water level in the river increased due to heavy rainfall in the region. The bridge provided connectivity to Shakra, Baaladi, Bindla, & Jedvi villages
Source: ANI
Delhi: Water level of Yamuna River recorded at 204.70 meters today (the warning level is at 204.50 meters),
After more than 8 lakh cusecs of water released from Hathni Kund barrage. Delhi Govt has issued orders for evacuation, Civil Defence volunteers have been deployed.
Source: ANI