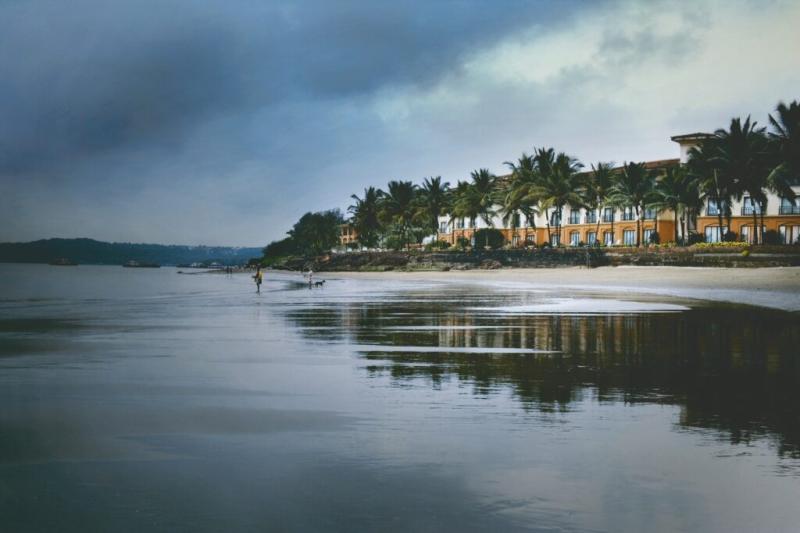 RUPALI DEAN quizzes top chefs on their favourite foodie destinations
Chef Bakshish Dean
Chef consultant Bakshish Dean, who comes with over 25 years of experience with one of his biggest achievements being that The Orient Express, Taj Palace Hotel was in Top 50 Restaurants of the World list during his tenure as chef in charge in 1996, absolutely loves France with his favourite city being Lyon.
"The food and beverage business is a very serious business with great control on quality and hospitality all over France. I love Paris, Nice and Strasbourg, Paris stands out for the plethora of fine dining restaurants but there's nothing better than the Parisian patisserie; that said my favourite city in France is Lyon where France originally elevated food into an art form and is home to a notable 22 Michelin stars and is the gastronomy capital of the world. Paul Bocuse the pioneer was and will be a local hero and also namesake to a significant cooking school and the world culinary competition known as the 'Bocuse d'Or'. The city still caters to epicures of all budgets, although it's the haute cuisine that clearly stands out. It emphases on native ethnicities and produce, and the 'bouchons' are amid the best spots to enjoy the more pastoral cuisine washed down by the finest French wines."
Chef Sandeep Pande
The brand new executive chef at the JW Marriott Aerocity, New Delhi – Sandeep Pande, who has spent almost two years in Sri Lanka creating and running the Weligama Resort, can't seem to get enough of it, "Food is powerful and what makes us who we are as a people. In fact, you cannot experience the real, authentic side of a culture without experiencing the food. After all, what is Vietnam without a Bowl of Pho, Hungary without Goulash, Spain without Tapas, Germany without sausages? My favourite food destination is South Sri Lanka. The reasons are many and diverse. Most common ones are diversity of ingredients and simplicity of cuisine. Healthy cooking practices wherein most of the curries are one pot preparations cooked in mud pots and the goodness of ingredients is sealed in. South Sri Lanka has a micro floral footprint with some very unique and intriguing ingredients like Gotukola/ Brahmi or Asian Penny wort, and availability of a variety of mangoes almost throughout the year."
Chef Fabrizio Fiorani
This Italian chef, recently crowned as the best pastry chef in Asia has a sweet tooth which took him to Bangkok recently and he absolutely loved it!
"As a pastry chef, I am really interested to discover new concepts related with the sweet world. On my last trip in Bangkok, finally I was able to try a really innovative dessert concept: Kyobar serves amazing dessert and pastry in 'restaurant style'. The degustation menu is created perfectly by the perfect duo, the Kewkacha brothers. High quality ingredients, sense of humour and consistency are the main characteristics to create a perfect dessert experience and, honestly speaking, in Kyobar they perfectly hit the target."
Chef Himanshu Taneja
Culinary director India for Marriott Hotels, Himanshu loves Goa. "Goa has a soul that goes deep into unique history, rich culture and some of the prettiest natural scenery that our country has to offer. One should include a tour of the local bazaars; it's an insight into the Goan culture. Mapusa in the North and Margao in the South of Goa have the best local markets. A visit to Goa is incomplete if you haven't had a round of the spice plantations. There are two of them in Ponda, ask for a round of the bigger one, it makes for an interesting day out. One of the great pleasures of visiting Goa is its food. Goan food is renowned for its virtually addictive flavours and variety, and for the freshness of ingredients, and Goa is especially acclaimed for its seafood."
Chef Harangad Singh
Corporate chef of Biggie Hospitality, Harangad is popular for his restaurant Prankster and his Choley Kulche Doughnut, which even Chef Alain Passard gave a thumbs up to, is absolutely mesmerised by Spain and more so Madrid. "It is vibrant and diverse, yet still anchored in strong Spanish tradition! I see Madrid as some place that breaks down barriers; it is not the typical Spanish town but is a city that opens to the world and the cuisine is indeed interesting. What I love the most is that the produce is excellent and they let the ingredients do the talking!"
Chef Garima Arora
The chef and owner of restaurant Gaa, Bangkok who's lately been conferred Asia's Best Female Chef, loves Copenhagen. "I used to work and live there so I definitely have an affinity for this city. There are a lot of talented chefs from around the world there serving the most amazing food. Also, for the high quality produce," she says. Garima worked at Noma, when it was built in a graceful 18th century granary positioned on the docks …picture-perfect place for an epicurean sojourn of New Nordic Danish food. The New Noma has transformed in its new quarters, an altered naval ammunition bunker neighbouring Christiania, on the coast of a city lake, and is equally stunning.
Chef Prateek Sadhu
For Prateek Sadhu, head chef/co-owner, Masque Restaurant, Mumbai…Mexico it is. "I found so many similarities in flavours, textures and ingredients, all being consumed in such fascinating ways. There's so much depth to the cuisine, and it also changes with every region. The flavours in Oaxaca are so different compared to those in the Yucatan. There's a strong influence of vegetables and herbs in the entire cuisine, and it was really interesting to draw parallels to our food in India while I was there – which is why I am excited to be going back to cook in Mexico City later this year"!