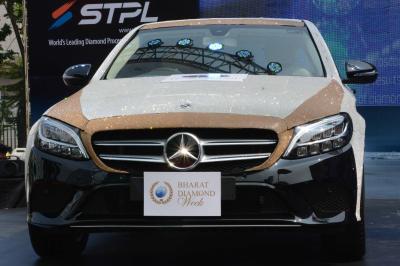 Mumbai: Today at the third edition of Bharat Diamond week (BDW), the world most expensive Mercedes Benz C-Class with 3.5 lakh Cubic Zirconia diamonds was showcased at Bharat Diamond Bourse (BDB) Complex in Bandra Kurla Complex, Mumbai.
The Mercedes Benz, studded with 3.5 lakh CZ diamonds is presented by Laxmi Diamond. It was one among many other leading diamond manufacturing companies to have displayed their products.
The BDW event has seen over 100 Indian companies displaying polished diamonds to buyers from across the world in the event that lasts from 14th to 16th October, 2019. It is taking place at the BDB Complex which is the world's largest diamond trading centre.