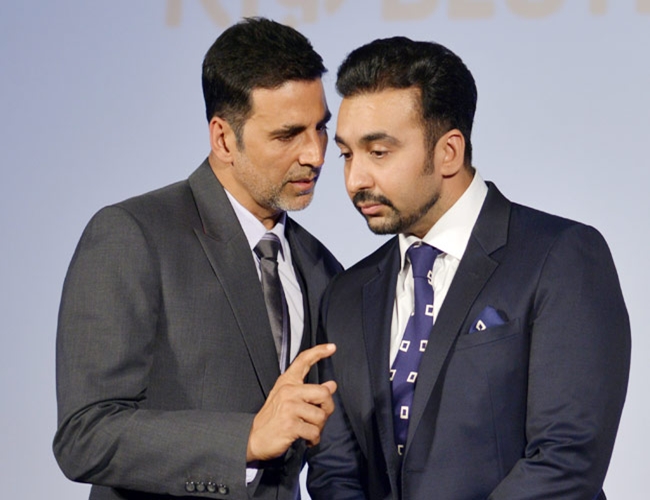 Sidharth Malhotra, Sonakshi Sinha and Akshaye Khanna starrer Ittefaq has finally released today. Ittefaq is an official remake of Yash Chopra's 1969 directorial venture of the same name, starring Rajesh Khanna and Nanda.
But do you know, before watching Ittefaq in theatres, you should know that there have been many 'ittefaqs' i.e in Bollywood in real life as well. Yes, Bollywood Industry has witnessed many coincidences, details of which will leave you awestruck.
So, as people watch Ittefaq in theatres, let's take a look at top 10 Ittefaqs i.e coincidences in Bollywood.
Top 10 Bollywood Ittefaqs
Akshay Kumar and Raj Kundra

We all know that Akshay Kumar and Shilpa Shetty were in a passionate relationship. But after their break up, they got married to Twinkle Khanna and Raj Kundra respectively. But, do you know Akshay and Raj share their birthday. Yes, both Akshay Kumar and Shilpa Shetty's husband Raj Kundra celebrate their birthday on September 9.

Three Khans' Connection

The Three biggest Khans of Bollywood i.e Shah Rukh Khan, Salman Khan and Aamir Khan have always been considered as competitors of each other. Well, Aamir made his debut in 1988 with Qayamat Se Qayamat Tak, Salman too in 1988 with Biwi Ho To Aisi and SRK made his debut in 1992 with Deewana. But do you know that they share the same birth year? Yes, Salman, Shah Rukh and Aamir all were born in 1965.

Shahid Kapoor and Rajkummar Rao's Connection

We have always been appreciating Rajkummar Rao and Shahid Kapoor's acting in their respective films. But do you know they have another amazing connection? Yes, in 2013, Rajkummar Rao did a film called Shahid whereas; in the same year, Shahid Kapoor did a film called R… Rajkumar. However, Shahid didn't win any award for the film but Rajkummar Rao became the winner of National Award for Best Actor.

Vinod Khanna and Feroz Khan's Dosti

Vinod Khanna and Feroz Khan were considered one of the famous best friend duos of Bollywood. But do you know Vinod Khanna and Feroz Khan's friendship was so strong that they died on the same date? Yes, Feroz Khan died on 27 April 2009 whereas; Vinod Khanna too died on 27 April 2017. What a coincidence?

Vidya Balan ke Side Effects

They say everything is written in one's destiny. It looks like this dialogue perfectly suits on Vidya Balan. Well, Vidya had signed a film 'Shaadi Ke Side Effects' 5 years before her marriage to her husband Siddharth Roy Kapoor i.e Sid Roy Kapoor. Co-incidentally, in the film, Vidya's husband name was also Sid Roy. Isn't that fascinating?

Kalki Koechlin's Connection

Statue of Liberty and Eiffel Tower have been considered as the iconic tourist attractions of the world. But, do you know Kalki Koechlin's connection to these famous spots. Apparently, Kalki's great-grandfather was the chief engineer in the construction of both, the Eiffel Tower and the Statue of Liberty.

Amitabh Bachchan and Abhishek Bachchan's Dostana

Abhishek Bachchan and Amitabh Bachchan share great bonding with each other as son and father. But do you know there is a connection between these actors in films as well? Yes, Big B had worked in Dostana (1980), but after 28 years, Big B's son Abhishek had also been a part of the remake of Dostana (2008)

Priyanka Chopra and Zeenat Aman's Connection

Priyanka Chopra has always been considered as one of the hottest and glamorous actresses of Bollywood. Just like that, it was Zeenat Aman who used to be considered in the 70s and 80s. But do you know, Priyanka has always been a favourite choice to reprise Zeenat's role in her films' remake? Yes, first in 2006, Zeenat's super hit film Don (1978) was remade in 2006 with the same title in which PeeCee had reprised Zeenat's role in the same. Again in 2008, Zeenat's film Dostana (1980) was remade in 2008 with the same title in which Priyanka again reprised Zeenat's role.

Sonu Nigam and Sonu Sood's Birthdays

The entire world is mad of Sonu Nigam's voice whereas many girls are die-hard fan of one of Bollywood's hottest hunks, Sonu Sood. But do you know, apart from sharing their first name, Sonu Nigam and Sonu Sood celebrate their birthday on the same day as well. July 30.

Bobby Deol's double Barsaat

Bobby Deol has seen a lot of ups and downs in his film career. But do you know, the actor has done films named Barsaat twice. Yes, in 1995 Bobby made debut with the film Barsaat opposite Twinkle Khanna. Interestingly, he again did Barsaat in 2005 in which he starred opposite Bipasha Basu and Priyanka Chopra. Sadly, both the films tanked at the box office.
Say no to spoilers
While on Ittefaq, the makers of Ittefaq have started an online campaign in which they have urged people to not be a spoiler. Yes, the hashtag #SayNoToSpoiler has been trending on Twitter. Ittefaq is produced by Shah Rukh Khan and Karan Johar under Red Chillies Entertainment and Dharma Productions respectively.