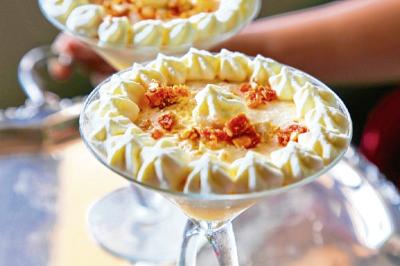 Actor, writer and BG member TARA DESHPANDE TENNEBAUM delves into age-old recipes from the colonial days that have either died out or are slowly being revived and relished
The first spoonful is heavenly. A fluffy, creamy, liqueur-laced pudding slips over my tongue like a velvet dream. The heady Byculla Soufflé harks back to a bygone era when chilled puddings, made possible in hot and humid Bombay by expensive shipments of ice from Boston, Massachusetts, were a novelty.
The Bombay Times in 1839 reported, "We understand that Captain Ward of an American vessel, which has been lately in our Harbour, has agreed with the Members of the Byculla Club, to bring forty tons of ice for them, to this place, for which they are to pay Ks. 300 per ton (if in the Harbour, before the 10th of May, 1840)."
Byculla Soufflé was the signature dish of the very exclusive Byculla Club. Served on silver salvers by liveried stewards to exalted guests in Bombay, this frothy French dessert was all the rage in the late 1800s.
One of India's earliest 'gymkhana' prototypes established in 1833 during the short reign of King William IV, the Byculla Club flourished as an elite whites-only establishment in colonial India in the times of Queen Victoria and King Edward VII and finally closed its doors during the reign of King George V.
'Posh' may not be the first word that comes to mind when one thinks of Byculla today, but between 1870 and 1925, some of India's wealthiest men had their palatial homes in this neighbourhood. David Sassoon lived here and also built the splendid Magen David Synagogue, now beautifully refurbished by government grants.
When the club was finally shut down in 1920, after being briefly turned into a hospital, the Byculla Soufflé too was relegated to history's dustbin.
While Indian gymkhanas continue to cater some of the 'old-world' fare to India's gentry, dishes like Welsh rarebit and caramel custard survived, but the many other recipes vanished from club menus.
The Times of India, November 29, 1880 reported, "Lord Dufferin, Lord Curzon and Governor of Bombay Sir Philip E. Wodehouse were also lavishly entertained at the Byculla Club. At a dinner for Sir Philip, 150 guests were served a 15-course meal including potage of green turtle (now endangered), various cuts of beef (now banned) and pâté de foie gras (also banned)."
S. T. Shepard divulges the club's original recipe for the soufflé in a book The Byculla Club. "Take the yolks of six eggs, add three tablespoons of good white sugar, beat well till dry and keep aside. Take half a seer of cream and also beat till dry, now take half a packet of isinglass well soaked, add one liqueur glass each of Kummel, Chartreuse, Curacao, and Benedictine. Mix the whole well together, then put into a mould, on the top put crumbs of mixed biscuit and keep in ice until wanted."
Boozy desserts were commonly prevalent at gymkhanas and clubs in colonial times but completely vanished soon after Independence. In 1860, during the reign of Napoleon III, England and France signed the Cobden-Chevalier Treaty and tariffs on goods, including alcohol, between the countries were lowered and French liqueurs like Curaçao Chartreuse and Benedictine became the toast of England.
As ships found faster ways to get around the Suez Canal, clubs in India were at the forefront of importing liqueurs from around the world. For instance, in 1897, the Bangalore Club placed an order for over 60 casks of whiskey, Old Tom Gin, brandy, port, Noyaux and yellow Chartreuse from purveyors in England.
Another intriguing recipe is the King of Oude's Omelette featured in one of America's early cookbooks Modern Cookery for Private Families by Eliza Acton. The author is possibly referring to renowned gourmand Wajid Ali Shah, the exiled King of Awadh who reigned from 1847-1856. He left his beloved Lucknow and moved to Metiabruz outside of Calcutta with 2,000 khansamas (cooks). Acton suggests her readers use less spice and the recipe describes the preparation of a folded omelette—in the French style. It was common practice for Indian and British royalty to incorporate French names, techniques and recipes into their kitchen repertoires. While royalty hired French chefs, most clubs and gymkhanas renamed Indian dishes to make them sound more international.
Potage de Kari Clair refers to the classic Mulligatawny Soup which still appears on some club menus, but the preparation has changed a fair bit. Recipes such Poulet en Kari or Pilau de veau à la Madras were recipes frequently found in gymkhanas all over India, Singapore and Burma. The French has gone out of most gymkhana menus today, which is not just a loss of French cuisine for Indian members but the curry, which was an entirely British creation and different from any 'Indian curry', has also disappeared. Curry Ball Soup for instance, where remnants of leftover meat, rice and any soup were mixed together with curry powder to make balls, were dipped in egg and fried, or the Curry En Roux, a base of flour-cooked stock (interestingly, also the Japanese method of curry) was mixed with curry powder and cream and served with escalopes of chicken or veal.
Tollygunge Club members would take home tiffin after a long day of golf. Tiffin at the Tollygunge always consisted of a curry of some kind interspersed with other English fare.
Legend has it that the Madras Club curries were so famous that the Prince of Wales included the city in his tour of India just to sample them.