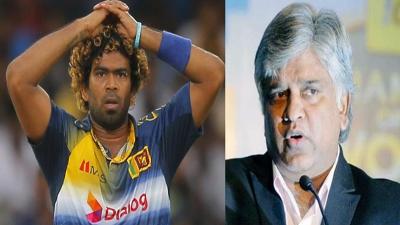 The MeToo movement has gained momentum in India and few celebrities in Bollywood and entertainment industry are presently facing controversies due to charges of sexual harassment. Now cricket is also hit by this movement and the first names to appear are of Sri Lankan cricketers Lasith Malinga and Arjun Ranatunga.
Lasith Malinga and Arjun Ranatunga were accused of sexual harassment by two Indian women. In the case of Malinga, an anonymous person has alleged that she was sexually harassed by the Sri Lanka pacer during the Indian Premier League few years ago.
Chinmayi Sripaada, a playback singer shared the story of the victim. The victim alleged that she was looking for a friend when she mistakenly bumped into Malinga. Malinga allegedly invited her and her friend to his room and forced himself on her. The victim added that she was rescued by the hotel staff after they knocked on the door of the room.
Below is the post of singer Sripaada in which the girl has mentioned about the incident.
Cricketer Lasith Malinga. pic.twitter.com/Y1lhbF5VSK

— Chinmayi Sripaada (@Chinmayi) October 11, 2018
Former Sri Lankan cricketer Arjun Ranatunga was also accused of sexual harassment by an Indian air hostess. The air hostess accused Arjuna Ranatunga of sexually harassing her at a hotel in Mumbai. She told the whole incident in a Facebook post.
In the post she mentioned that she was harassed by Ranatunga after she and her friend went to take autographs of cricketers at Hotel Juhu Centaur of Mumbai. She alleged that Ranatunga grabbed her by waist, and she kicked his legs to rescue herself. She also threaten him with dire consequences and complained to the hotel reception.