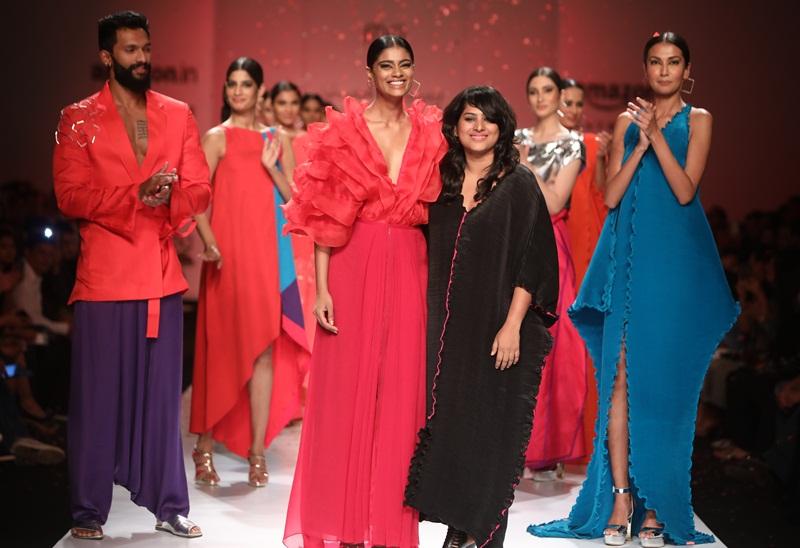 'Wendell Rodricks' has invariably embodied the spirit of summer. How do you define the season both generally and fashion-wise.
Summer translates to holidays, beach time and relaxed dressing. So fashion for this season should be fun, sexy yet not forgetting breathe-able. And while our SS2019 collection celebrates rainbow colour, we love our signature whites most around this time of the year.
How do you respond to the season, as a designer?
By making clothes that wear light, yet look effortlessly stylish. I like keeping my silhouettes fluid as it always makes for great summer style. Cotton doesn't have to be boring and can easily go from day to evening wear with the right shoes and accessories. I also like exploring a minimal print or a hint of subtle embroidery as a value added to handloom fabrics that work well for this season. Though frankly beyond all of this, summer-wear blurs into most of our collections since we are a resort luxe label and Goa is our state of mind.
What were the inspirations for your various summer friendly designs?
It's most importantly about the fabric. If it won't feel great, it won't wear great. I start with picking fabrics that have a luxurious hand-feel. Just like Wendell, cutting on geometry fascinates me as well which has been a major feature in my designs. The trapezoid and square forms as silhouettes work well for the summer and Indian female body type. Other inspirations have been the Indigo leaf dress stitched with just two curved seams, Candy stripe colour blocked patterned pieces, Cotton yarn drop-stitch hand knitted details to make clothes more breathable and knotted swimwear/ sarongs to make for non-conforming fitted wear. I also regularly scout local flea markets for unusual trims and wood block-prints to add detail to basic blousons and shift dresses.
Introduce us to summer-friendly WR designs that will take you from lazing by the pool, to sangria-lunches to evenings dancing… all in different WR creations…
1. Our classic – The sarong. Skirt to dress style.
2. The colour blocked piped circle fold over top.
3. Sheer cover ups with a little sparkle.
4. Mundu cotton minis, overshirts and blousons.
5. Crinkle Trapezoid maxi.
What are the must-haves for women and men, in terms of accessories and shoes.
For women:
Bold in design, print and colour fabric hairbands/ scrunchies/ hairclips/ brooch.
Beaded tassel dramatic earrings.
Geometric framed tinted sunglasses/ mega lens sunglasses.
Printed scarves as hair ties/ waist cinchers/ loosely tied on bags.
Embroidered belts.
Raffia fringed bags/ XXL Totes/ Twin bags.
Fabric Tie-up boho sandals/ stilettos.
Geta heel sandals.
For men:
Mirrored lens sunglasses.
Klettersack sporty backpacks.
Abstract or Graffiti print caps/ shoes.
Leather dual band sandals/ Colour blocked sneakers.