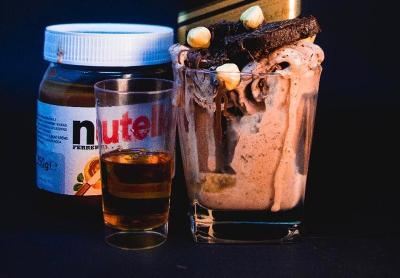 Gita Hari introduces you to a range of exotic ice creams that are anything but predicable If summer is here, can ice cream indulgences be far behind?
We all love to dig into scoops of delicious icy and creamy frozen desserts. An array of flavours including alcohol-infused delights, with base of waffle cones, brownies, Oreo, doughnuts, candy floss and others, new age ice creams are sure to satiate the cravings of the young and the old alike.
Boondi Ladoo or South India's Filter Coffee in an ice cream at Where's My Cone in Bandra will give you an ethnic taste while Cordon Bleu grad Ritika Chawla's Artisan ice creams like Salted Caramel, Peanut Butter Crumble are eggless and you can get vegan ones too. Apsara Ice Cream puts forth Belgian Bites, Thandi Thandai, Crunchy Chikki, Guava Glory, Pani Puri Pataka and more interesting flavours for the adventurous. A few restaurants have come up with healthy, nutritious ones for the fitness freaks.
Let's check out the frozen deliciousness of some out-of-the-box ice cream flavours for your pleasure.
Boozekraft & Waffritos at Icekraft 
The soaring mercury is about to get a kick with potentially boozier ice creams! Icekraft at Oshiwara and Kandivali, is renowned for perpetually delighting the taste buds, by introducing new concepts like Charcoal Ice creams, Friffles (Fries and waffles) and Waffritos (waffles & burritos). But there's much more exciting lickables to look forward to this summer.
Alcohol and ice cream is the dreamy couple to make a debut as Boozekrafts – where ice-creams' secret liaison with premium alcohol promises the right punch to beat the heat! Get spoilt for choice with options like Black Rum and Raisins with freshly baked Brownies+Nutella, Agent Black of smooth whiskey blended with dark chocolate base with brownies, Drunken Nutella, Ping Pong (vodka blended with vanilla base, strawberry compote, mango compote and freshly baked brownies), Captain O'range, or Drunken Fudgy Mess which is a heavenly blend of rum and whiskey mixed in chocolate base, fresh walnut fudge, Nutella topped with walnut fudge and chocolate fudge.
Dessert & quirk at Blendorama 
With pops of pastels and a little bit of funk, Charni Road's Hybrid Café Blendorama's fascinating treats are just right to take you on a cool fantasy trip. A perfect blend of dessert and quirk, this new joint is a haven for every sweet-toothed foodie. It tempts with all the right quirks and works.
Try the Candy Floss Ice-Cream Cone in which amazing flavours of ice-cream are rolled into the soft and melt-in-mouth candy floss! Browniewich has the best of both – gooey brownies and ice cream – a sandwich you can binge all day long! The massive Freakshakes bursting with temptalicious chocolates, ice-cream, wafer sticks and well more chocolate are irresistible. This is not just it, experiment with your desserts to come up with something new and treat your taste buds to the hybrid of your favourite desserts here.
Solkadhi & Blueberry at Sofitel Mumbai BKC 
Pondichéry Café's Sunday Brunch serves a unique and healthy Solkadhi Ice Cream with Blue Berry. According to Pastry Chef Rajat Sachdev, Solkadhi is a type of drink, originated from the Indian subcontinent, usually consumed after meals. It is most popular in Goa and the Konkan region of India. The drink is made from coconut milk and kokum. Combined with blue berry, this nutritious ice cream is full of antioxidants. It is great as a digestive, refreshing and cooling dessert – most ideal for summer months. They also have a selection of other ice creams, sorbet and kulfi.
Guiltless pleasures at Bina's ice creams
If it's 100% milk, no preservatives and no added cream you are looking for then home-made ice creams
from Bina's Fresh Batch it is. You can request for sugar free, keto friendly or vegan ones too and indulge in guiltless pleasures. Thai Red Rubies, Kachi Keri, Spicy Guava, Coffee Almond, Belgian Speculose and Paan chocochips are some of her speciality flavours.
 Moilee Sorbet & kulfis at Thangabali 
Dharmesh Karmorkar, Founder & Director of Restaurant Thangabali, has come up with a quirky dish called Moilee Sorbet as part of their summer special menu. The traditional subtly spiced Syrian Christian Moilee dish with loads of coconut milk is transformed into a sorbet to beat the heat. Besides, they also serve kulfis like Mango/Gulab Badam/Millenium Kulfis and Falooda to beat the heat.
Activated Charcoal Gianduja Hazelnut Praline ice cream at jÜSTA Sajjangarh Resort & Spa, Udaipur 
The deli's speciality frozen dessert is called Activated Charcoal Gianduja Hazelnut Praline Ice cream. This black beauty is the creamiest chocolate ice cream that you can experience with an earthy taste of toasted hazelnut and the famous Gianduja sweet chocolate-hazelnut paste all the way from Italy. Chef Sumeet adds a twist to its creamy flavour by mixing a super food ingredient – Activated Charcoal powder to the creamy praline giving it a unique texture and a refreshing change to the palate.