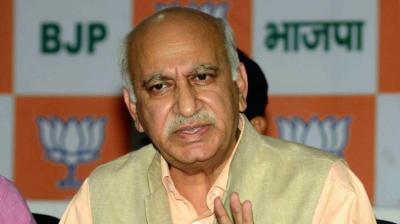 The #MeToo movement has gathered force and wound up on the threshold of Parliament. Demands for the resignation of Union minister of State for external affairs M J Akbar, after he was outed by at least six women journalists, are too strident to be ignored.
Last week, this column predicted that #MeToo would snowball and take down more big names and it has. The outing of Akbar came as no surprise to women journalists, even those who had not had the doubtful pleasure of working with him. His reputation, as a superlative editor but a lascivious human being, is well-established.
A few years ago, he came within an ace of being named in a rape complaint. A woman claiming to be his personal assistant and alleging multiple instances of sexual assault, filed a complaint. The DCP concerned referred it to a Special CP, who directed that the woman's statement be recorded before a magistrate. The very next morning, the woman withdrew her complaint. The matter was perforce dropped.
The current barrage of revelations should be taken more seriously, if for no other reason that the complainants are individuals with solid credentials and no axe to grind. Dismissing their statements as political conspiracy or blackmail/vendetta is untenable. The charges should be investigated and Akbar must step down until he is cleared.
The big question is why he was appointed in the first place. The BJP and RSS leadership knew of his reputation vis-a-vis women and chose to appoint him regardless. The Congress, which is now demanding his resignation, is equally culpable. By the time he joined the party in the late 1980s, he had already acquired a 'history sheet'. It may also be recalled that the Congress failed to take action against the then Union minister for environment, Z R Ansari, who was accused of molestation by activist Mukti Dutta in 1989.
The MeToo movement has focused attention on a problem that dates back to the first day women set foot in the workspace. Sexual harassment can be perceived from two angles. Some men, resentful of their presence in a hitherto male-dominated sphere use it as a tool to disempower women and make them feel out of place in the workspace.
When male bosses harass women, it is quite simply an abuse of power. Ironically, successful men are more prone to regard women as a perk of power. They have a sense of both entitlement and of impunity. Given their position at the top of the food chain, they can prey on lesser creatures and get away with it. And they will not take 'no' for an answer, because rejection damages their self-image. At this stage, they will use manipulation, coercion, inducements and intimidation to get their victim to surrender.
What upsets women most is the 'she asked for it' justification, because it implies a degree of consent on her part. The victim is shamed, because she sub-consciously encouraged lascivious behaviour, and the man vindicated. Predatory men invariably see signals of sexual compliance when there aren't any, from the way a woman dresses to how she smiles.
Unfortunately, our culture predisposes women to feelings of guilt and powerlessness. They rarely confront their aggressors or even talk about them to friends and family, little realising that their silence enables and empowers the perpetrators. They would rather change jobs than complain against their male bosses.
As predators, the aggressors know exactly whom to target. They sense vulnerability and move in for the kill. Self-assured women, who know how to defend themselves and/or come from influential and well-to-do backgrounds, are usually given a wide berth. Women who desperately need their jobs and salaries are soft targets. Of course, there are exceptions. Some men are so deluded that they end up annoying women who hit back.
Former Tehelka editor Tarun Tejpal made a terrible miscalculation in this respect and wound up in jail; he is facing trial for molesting an employee. Former TERI Director General R K Pachauri has also been ordered to stand trial for harassing a junior colleague. The late supercop KPS Gill was hauled to court by IAS officer Rupan Deol Bajaj.
What's amazing is just how common these instances are – the culture of workplace harrassment seems to be all-pervasive, despite the Vishakha guidelines. The fact that women prefer to speak up on social media rather than make formal complaints bears testimony to their lack of faith in the efficacy of measures taken by employers to check sexual harassment.
The political class deserves a share of blame, because it sets a negative example. Any number of politicians have gotten away with gender-insensitive statements, because there aren't enough women in positions of power in political parties to bring them to book. Only now does Lutyen's Delhi seem worried, as BJP MP Udit Raj's statement that the 'MeToo movement is a wrong practice' indicates. After the M J Akbar case, a number of politicians must be on tenterhooks.
Bhavdeep Kang is a senior journalist with 35 years of experience in working with major newspapers and magazines. She is now an independent writer and author.