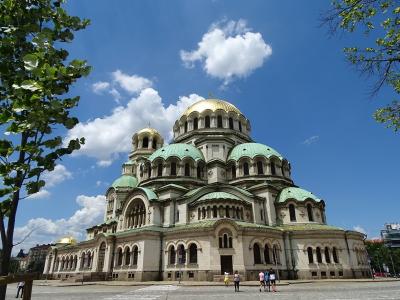 As one of the hottest new travel destinations for 2019, the capital of Bulgaria is a fascinating city with a lot to offer. Raul Dias shows you four of the most unusual and interesting things to do and see in this Eastern European city.  
Visiting a city like Sofia feels like being on the brink of a serendipitous adventure with something new in store for you at every turn. Not least of all for the reason, that both it, and the Eastern European country of Bulgaria that Sofia is the capital of, are places of great mystery to the average traveller.
But suddenly there seems to be a new-found interest in this modest-sized Balkan country and its dynamic capital. At least from the western traveller brigade who have taken to this post-communist nation with a vengeance. In fact, Bulgaria's second largest city Plovdiv has even won the title of European Capital of Culture for 2019!
And while Bollywood might have warmed up the charms of Bulgaria — with films like the Ajay Devgn-starrer Shivaay (2016) and the in-production Brahmastra headlined by Ranbir Kapoor and Alia Bhatt that have been filmed there — for most of us Indians the word 'Bulgaria' draws a big fat blank. Me included.
That was until a few weeks ago, when I accepted an offer to come explore a few places in Bulgaria. I started off with Sofia. And boy, did it charm me with its wacky, alternative side with plenty lurking beneath the surface (pun so intended!), or what?
Here are four of the most unusual and interesting things that I'd recommend doing in Sofia:
Descend into the Catacombs of St. Sofia Church
Here, you not just visit the St. Sofia Church (and namesake of the city!) — that's located next to the magnificent Eastern Orthodox-style St. Alexander Nevsky Cathedral — but also get your spook on and climb into its very bowels. All this, to wander among the ancient tombs and graves that are now part of the onsite subterranean museum. These graves are said to date back to the 6th – 7th century when the simple red brick church was the site of the Roman city of Serdica's necropolis.
Sign-up for the Free Food Tour
Yes, you read right, a completely free food tour! Organised by a company called Balkan Bites (www.balkanbites.bg), the free food tour is a great way to get acquainted with the flavours of Sofia and is the first of its kind in Europe. This two-hour long guided walking tour takes place daily (excluding national holidays) and starts at 2 pm outside the Russian Church in the city's historic and cultural center. The guided walk takes you to around six places where you can sample everything from the typically Bulgarian fried dough snack called mekitsi to an introduction to the coiled, flaky pastry stuffed with cheese and spinach breakfast staple of banitsa.
Get your Mineral Fix at the Free Public Hot Spring Taps
It is a well-publicised fact by its proud citizens that Sofia is a treasure trove of natural hot springs. With the city and its surroundings boasting more than 30 mineral springs. And there are three interesting facts related to this. For one, the city's ancient coat of arms shows a man bathing in one such hot spring.
Speaking of bathing, the city's Regional History Museum was once the old Turkish public mineral bath house that was functioning till 1986. Adjacent to the museum, one can still see people partaking in the city's mineral water bounty by filling huge water bottles with the free, (slightly salty tasting) warm water that flows from several taps that don't even freeze in Sofia's sub-zero winters!
Ring in Peace at Kambanite Park
One of the most perfect ways to end your unusual adventures around Sofia, is by taking the super-efficient metro to the Business Park station in the suburbs for some peace. A short walk from the station and you will find yourself at Kambanite Park that is known for its tall, concrete main bell monument that's surrounded by a semi-circle of smaller concrete structures laden with bells from every country on earth.
As one of the hidden gems of Sofia, the monument was built in 1979 as a global children's monument to commemorate the International Year of the Child. The idea here was to include a bell dedicated to every country in the world and to have children ring these as a gesture of peace. So, head there and ring your country's (or any) bell as an evocation of the universal wish — Peace on Earth. I sure did! 
Raul Dias a Mumbai-based food and travel writer and restaurant reviewer. Follow Raul on Instagram @rauldias123